As the Local Life explorer, I've spent countless hours discovering the picturesque towns of Staffordshire and Cheshire, discovering hidden gems and chatting with delightful independent shop owners. With all this adventuring, I've come to rely on a steady stream of caffeine to keep me going. So, I embarked on a journey to find the perfect caramel latte. Join me as I share my delightful coffee experiences and reveal some of my favourite spots.
First on our caramel latte journey is Hatters Leek, a lovely café with a friendly and relaxed vibe. The coffee here is incredible, and the staff are always so welcoming and kind. A great caramel latte and love the fact that it was served in a glass—I'm a sucker for a latte in a glass! Check them out on our Leek Instagram Guide.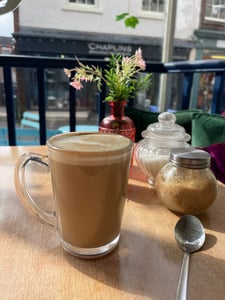 The lovely Plums Kitchen in Macclesfield is next on the list. Amazing latte, with lovely staff too! Also came with a Lotus Biscoff biscuit which was a lovely touch. Ps they are my fave biscuits so extra points! Find them in our Macclesfield Instagram Guide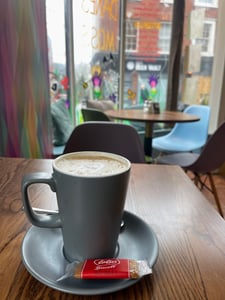 Macclesfield continues to amaze us with its coffee scene. Next up is Picture Drome Coffee, located inside the wonderful Picture Drome Macclesfield. This café boasts a unique location, as it is amongst other amazing food vendors, but that's what adds to the charm as everyone can find something they like. The caramel latte here is fab, the perfect balance between the rich coffee flavour and just the right amount of caramel syrup. And guess what? Another latte in a glass!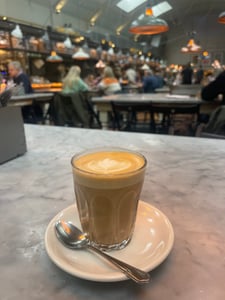 Saving the best for last, our winner in the caramel latte category is none other than Little Yellow Pig in Nantwich. This café has a charming atmosphere, and the latte was fantastic! The caramel latte arrived in a cute yellow mug (very on brand), and the caramel syrup came in a small glass jar, a super cute touch. I loved having the freedom to add as much caramel as I desired (which was all of it), but a great feature if you only like a small amount of syrup! Check them out on our Nantwich Instagram Guide.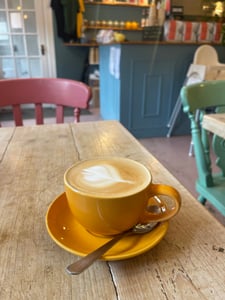 These are just a handful of the amazing coffee experiences I've had during my adventures. Each café has its own unique charm, and I encourage you to visit them and show your support to these local businesses. You might just discover some new faves and hidden gems in your town!
Check out our town guides here!